Raychem 342A012-25/225-0, shrink boot transition, Y-shape, with adhesive
Raychem 342A012-25/225-0, heat shrink boot transition, Y- shape, 3 branches: 1 in, 2 out; adhesive pre-coat, operating temperature range-75 – 150 °C [-103 – 302°F], long-term fluid exposure at high temperatures.
Description
Raychem heat-shrinkable molded parts in -25 material are designed to be used in conjunction with other System 25 components such as DR-25 tubing and S1125 adhesive, providing a complete cable harness system capability.
-25 parts have been specifically formulated and designed to provide optimum high-temperature fluid resistance and longterm heat resistance.
This unique balance of properties makes -25 parts particularly suitable for sealing and strain relief at connector-cable terminations and cable-tocable transitions on military vehicle cables and harnesses. Available in a wide range of configurations, -25 parts will operate from -75°C to 150°C [-103°F to 302°F] for long periods.
The standard color is black.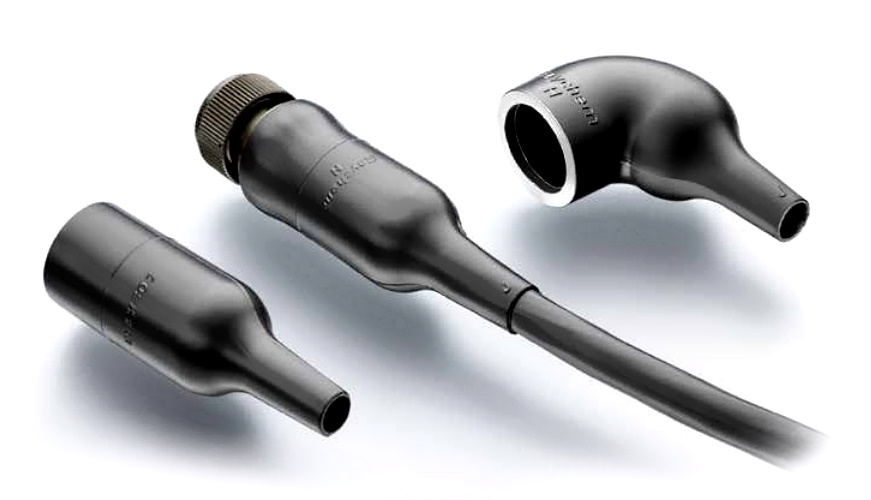 TIME SAVINGS
• Optimized interior geometry speeds installation time
• Faster recovery
RUGGED
• -75°C to 150°C temperature range
• Resists most common military fuels, oils, and greases
• Abrasion resistant
COMPATIBLE
• Part of System 25 harnessing components
• Meets the requirements of MIL-STD-2003, MIL-I-81765/1A, ABS, DNV, Lloyd etc.
APPLICATIONS
• Military ground systems
• Aerospace
• Marine
Data sheet
Product type

Heat Shrinkable Transition 1 in, 2 out

Material

Fluid-resistant elastomer

Operating temperature range (°C)

-75 ... +150 °C

H Dia. as supplied (mm)

13.2 mm (0.52")

H Dia. (Max) , after unrestricted recovery (mm)

6.9 mm (0.270'')

Adhesive Pre-Coat

Yes

K Dia. as supplied (mm)

6.6 mm (0.26'')

D Dia. (Max) , after unrestricted recovery (mm)

3.6 mm (0.14'')
Important!
1. The prices displayed on the site, including special offers, are valid only for the products in stock, within the available limit!
2. Customized products (eg cables cut to the required length) cannot be refunded and cannot be returned!
3. The images of the products presented on the site are for information purposes only and may differ from the real products!
4. Micronix Plus SRL reserves the right to change the prices and specifications of the products without prior notice.
6 other products in the same category: