Description
HIKMICRO HM-P201-MACRO lens allows you to spot potential design flaws, evaluate PCB hot spots and inspect small electronic components. Easily clips onto HIKMICRO Pocket-Series thermal imaging cameras.
HIKMICRO HM-P201-MACRO lens is compatible with the Pocket series (Pocket1, Pocket2) thermography cameras.
Key Features
● Temperature measurement range : -20°C to 150°C (-4°F to 302°F)
● High Accuracy: Max (± 3°C/5.4°F, ± 3%), for object temperature between 0°C (32°F) to 150°C (302°F)
● Easy installation: Easy to attach the macro lens to compaticle cameras
● No Calibration Required: Ready to use once installed, saves the hassle of sending the camera to the manufacturer to calibrate the lens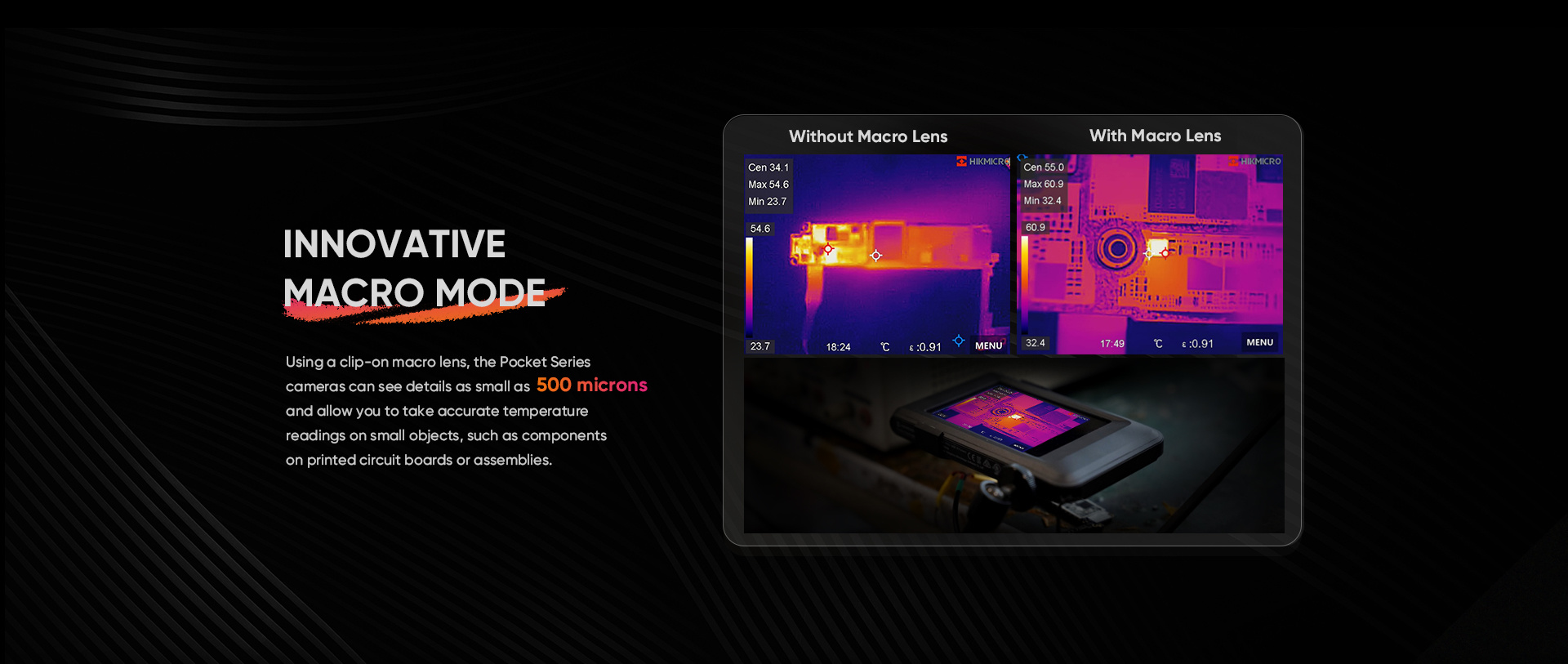 Data sheet
Field of View (HxV)

47.6° × 36.1° (min. target size 100 μm × 100 μm, min. focus distance 30 mm)

Distanta focala (mm)

4.1 mm

Temperature range (°C)

-20 .. 150°C

Accuracy

Max (±3 °C/3.6 °F, ±3 %)

Dimensions (L x l x H)

44.2 mm × 25.16 mm × 87.2 mm

Weight

9 g
Important!
1. The prices displayed on the site, including special offers, are valid only for the products in stock, within the available limit!
2. Customized products (eg cables cut to the required length) cannot be refunded and cannot be returned!
3. The images of the products presented on the site are for information purposes only and may differ from the real products!
4. Micronix Plus SRL reserves the right to change the prices and specifications of the products without prior notice.
6 other products in the same category: